The Autumn 2007 play was "Outside Edge" by Richard Harris:
"Set in a cricket pavilion, Outside Edge deals with an eventful Saturday afternoon in the lives of five men and four women. Roger struggles to keep together his team to play against the British Railways Maintenance Division Yeading East, while the player's wives and girlfriends help and hinder to devastating and hilarious effects.
While the play is ostensibly about cricket, it's actually about relationships - and Harris is soon lifting the lid on all manner of angst and extra-marital shenanigans among the lead characters".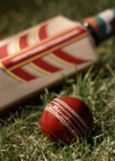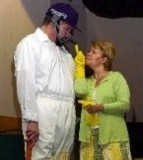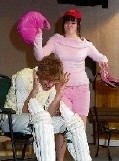 With its cracking comic script, absence of set changes and a cast almost equally split between men and women, Outside Edge is not surprisingly a perennial favourite among amateur drama groups and their audiences.
First staged at Hampstead Theatre with a cast including Maureen Lipman and Julia McKenzie, Richard Harris's hit comedy enjoyed a hugely successful West End run before being made into a TV play starring the late Paul Eddington as Roger. Later still, a TV mini series was spawned, featuring the characters that make up the cricket team captained by Roger.
The action takes place at the cricket pavilion before and during a match, with the pitch being offstage where the audience is sitting.
Roger has enough trouble assembling his cricket eleven but these complications are nothing compared to the trouble that develops with various wives and girlfriends during the course of the play. Bob has trouble between wife and ex-wife, Alex's girlfriend locks herself in the loo, Dennis flirts with anything wearing a skirt and Roger's wife Miriam (Mim) – champion tea maker – rebels against his authority and uncovers his unfortunate peccadillo in Dorking while playing an 'away match'!